Brand Design Study: Florence by Mills
What is Florence by Mills?
Florence by Mills is a beauty brand lead by teenage actress Millie Bobbie Brown, who many might know from the popular Netflix show Stranger Things. It was founded in collaboration with brand incubator Beach House, though last year Millie Bobbie Brown purchased majority stake in the brand. The name of the brand comes from the name of Millie's great grandmother and Mills is nickname for Millie. The brand offers both skincare and makeup products.
What is the most popular Beauty Brand right now, and why is it Florence by Mills?
As part of my market research I have two monthly updated top lists of beauty brands, one of them for skincare and the other for makeup. The lists are based on how well brands are doing on instagram. For both lists, for the whole year so far, Florence by Mills is number one. The levels of engagement Florence is getting on social media is off the charts compared to any other beauty brand. A big part of the popularity of the brand is how they have managed to create a brand especially targeted towards Gen Z.


Millie Bobby Brown
How does Florence by Mills appeal to Gen Z?
Florence by Mills appeal to Gen Z starts with Mills herself. She is very well liked and comes off as really "authentic", which is something that is really highly valued by Gen Z. Unlike other influential celebrities behind popular brands Mills is actually a teen, she is allowed to be a kid. So are the models they use, it just makes the brand a lot more relatable to young audiences. The brand is also cruelty-free and vegan, which is something that Gen Z generally value more than older audiences.


The design of Florence by Mills
The packaging design is very much in line with the current trend of monochrome packaging that I talked about recently. Most of the products are in their soft lavender brand color with simple minimal text in a clean sans serif font. The product photos used for their own website have contrasting pastel backgrounds that really make the products pop. They also use a lot of gifs to grab attention and show off the products. All the products are packaged in plastic which is not a sustainable material, but they also do not make any claims of being a sustainable brand.
Hit Reset Moisturising Mask Pearls
How do you make skincare fun?
Skincare is not just about how the ingredients effect your skin, every part of a product is part of your experience. From the way the packaging looks and feel, the scent of the product, the way the texture feels and how you apply it. you can involve all senses to make skincare an enjoyable experience. Popping little pearls filled with cream and fishing out a little gel whale to place under your eyes is fun and adds to the experience.
Swimming Under The Eyes Gel Pads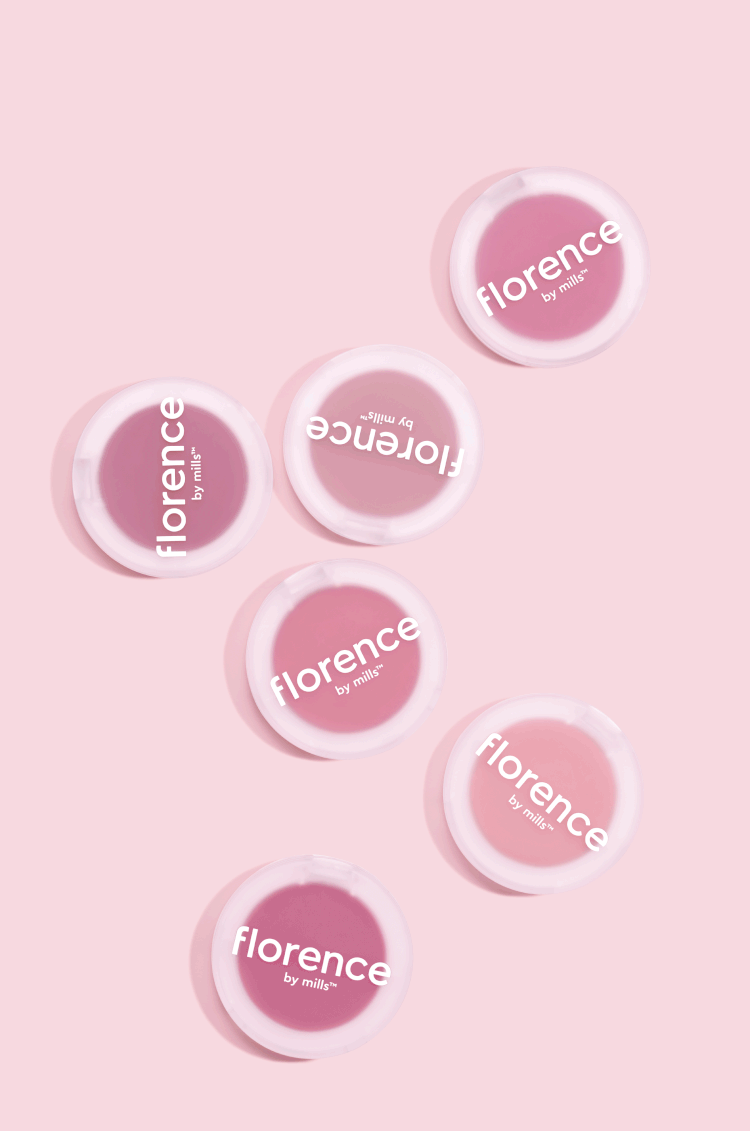 How do beauty brands go viral?
Beautiful packaging and satisfying textures are not just a great way to make your products enjoyable for customers, it's also a great way to have your brand go viral. Florence by Mills have very instagramable products that both look stylish and fun, which makes people want to try it and then share it on their instagram too. They also have a really engaged fanbase that not only very actively comments and interacts with the posts of the brand but also comment and interact with each others posts encouraging most posting and more interaction.
Hit Snooze Lip Mask
What have I learned from this?
I think a big part of a brand being successful is knowing who you are targeting and what they value. Never try to be everything for everyone, be just right for a certain kind of person. I also think Florence by Mills shows that being relatable can be way more important than trying to be perfect.
Mind Glowing Peel Off Mask
Your Gorgeous Face is featured in my Friendly Fun Beauty Brand Archetype Report. Check out the report for more cute Gen Z brands.
Thank you for reading! //Jennifer Carlsson